Merry Christmas and a Productive Working Party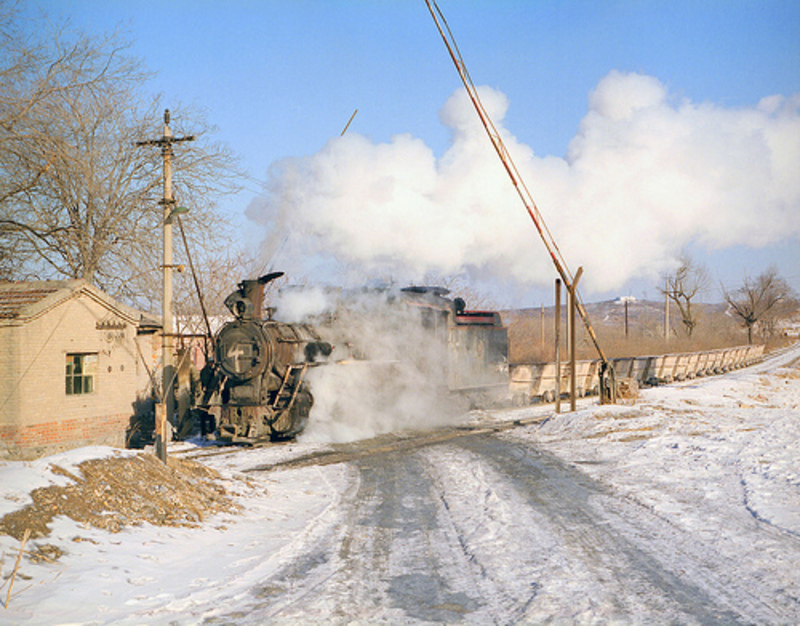 While you were putting up with the tedious seasonal family duties (am I allowed to say things like that?) we have been in North Wales working on our Chinese Takeaway :-)
We're part way through another very productive working party, which started on 23rd December. Again Boston Lodge has been remarkably busy with several other working parties going on - we've even had to stagger our lunch breaks because there isn't room for everyone in the mess room. We've been well fed because almost everyone has brought chocolates, mince pies, biscuits etc left over from the festive period!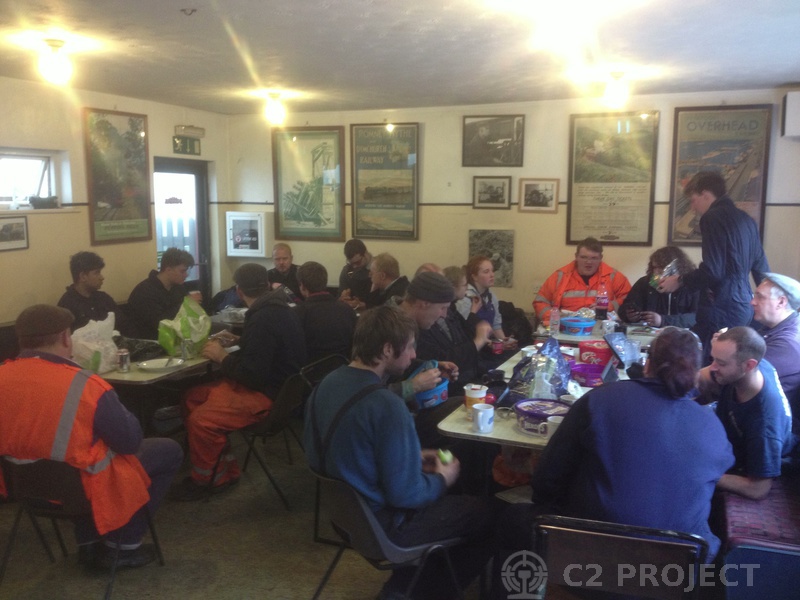 Paul and Dave 1 did some preparatory work before Christmas, setting up several tasks in different places around the workshops so that when everyone else arrived they were ready to start. They also checked the fit of the wedge faceplates on the horn wedges, and Paul skimmed the working face of the wedges on the surface grinder to be perfectly true and smooth. One of the plates was a slightly tight fit and needed a few thou removing from the inside edge which Dave 1 machined off. The wedge faceplates have all been refitted and measured and they're looking good.
Dave 2 has continued to work on machining the suspension knife edges, and these are now finished and met the paintbrush before the camera - there's a photo a few paragraphs down the page.
Meanwhile Dave 1 has been working on machning a spring pillar cap. Of the 8 on our loco, 7 were in reasonable condition while the eighth was a horrible bodge replacement that did not fit well. So we decided to replace that one. A couple of days on the Bridgeport milling machine and a little hand finishing, and Dave 1 is rather pleased with his finished component made to the original Polish/Russian drawings.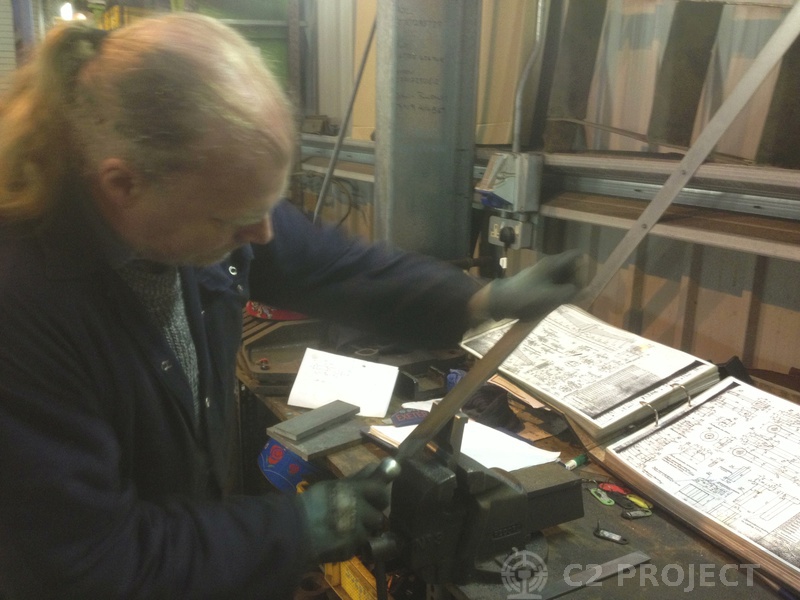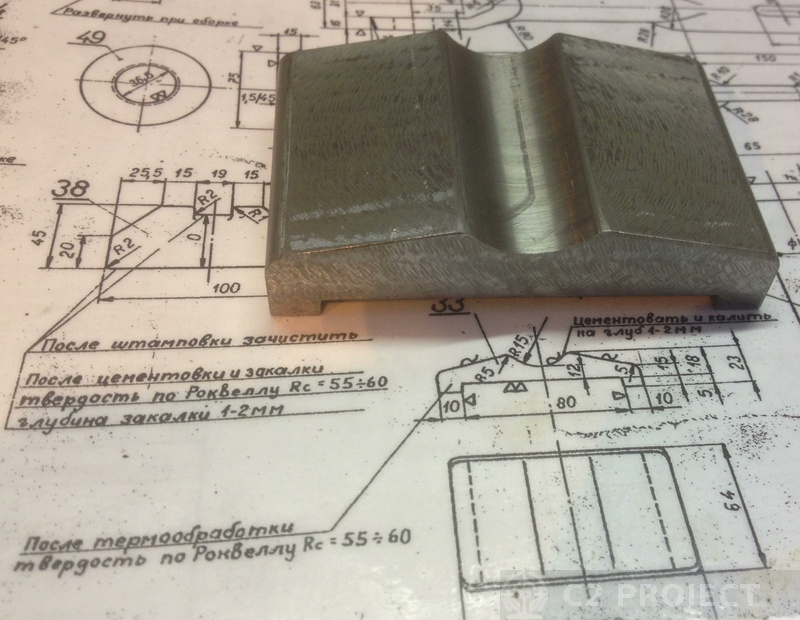 Andrew has been applying more coats of paint to the loco wheels, which now look excellent in their red, white and black scheme. Also in the paint shop, the tender springs have had another coat of black paint. And Matt has done a great job on the loco frames which he has touched up with midnight blue and then a black topcoat in areas where the paintwork had been damaged.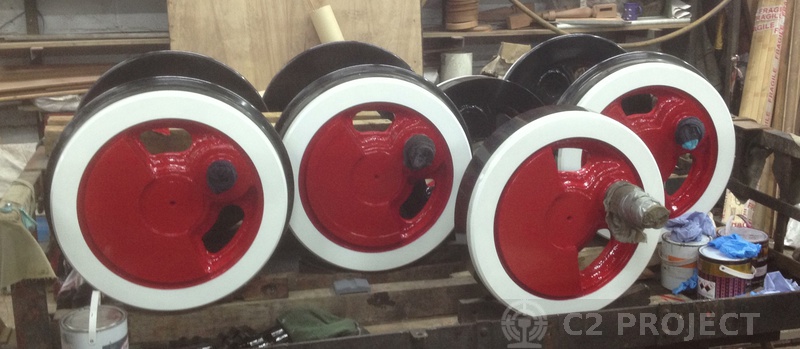 We knew that our turbogenerator didn't work, and we recently had a quote for a replacement to the same design which is still available in China (at present). This was more expensive than we had hoped, especially with the recent crash in the value of the Pound. So we thought it would be a good idea to strip the old one and see if it was repairable. Alan made great progress with this, but sadly the conclusion is that we need a new one. Our machine has several cracks in the major castings, and has also suffered a high-speed incident which has completely mangled the impeller and governor assembly. These aren't repairable and given that the electrical end of the machine is also in a corroded state our only option is to replace it. Anyone fancy sponsoring a turbogenerator at $5,150? Please Santa, we've all been good boys!
On a brighter note, Matt has done a great job cleaning up the cab windows and these are in good order and will get a coat of paint tomorrow. We're missing two of the six, but spares are available from China at a more reasonable price so we'll probably buy them. Will has been painting the window frames and a variety of smaller components such as the knife edges and pillar cap made by the Daves.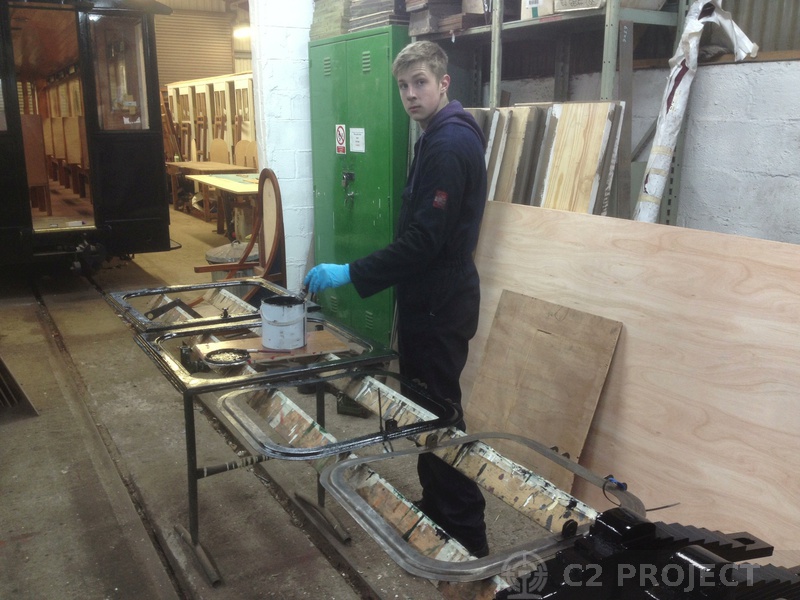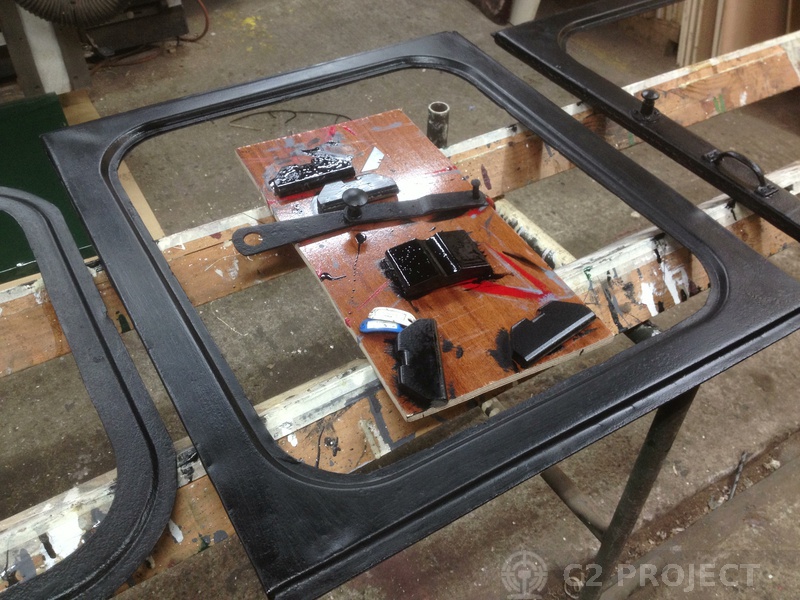 Chris has spent a couple of days on the tender frames removing the last of the rough edges and unwanted material, and has been cleaning up some of the rough-cut holes. Meanwhile Matt has done some descaling at one end of the frames and made some blanks to plug a few holes we no longer need. Dave 2 did some more scale removal and Andrew has welded up the resulting holes. These are now being ground back flush and the tender frames are looking a great deal neater than they did before.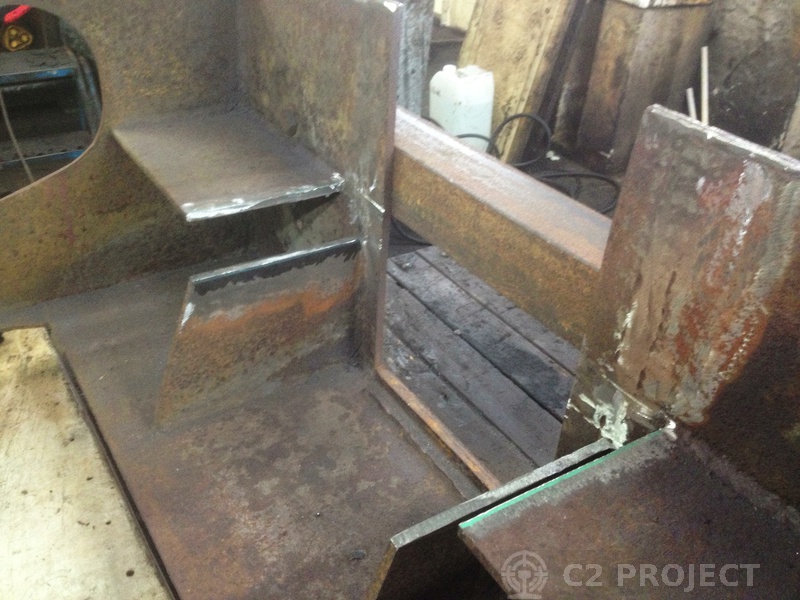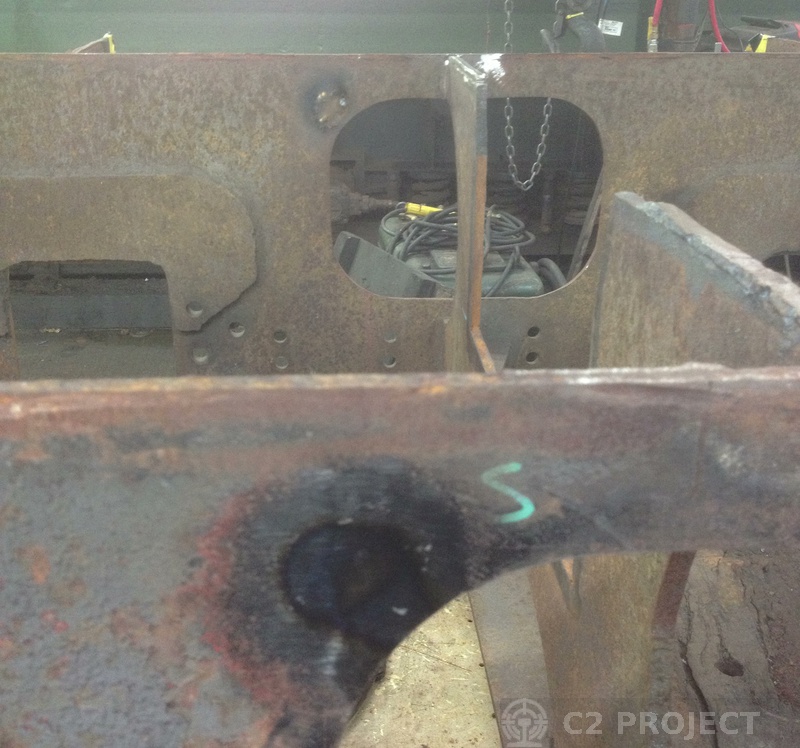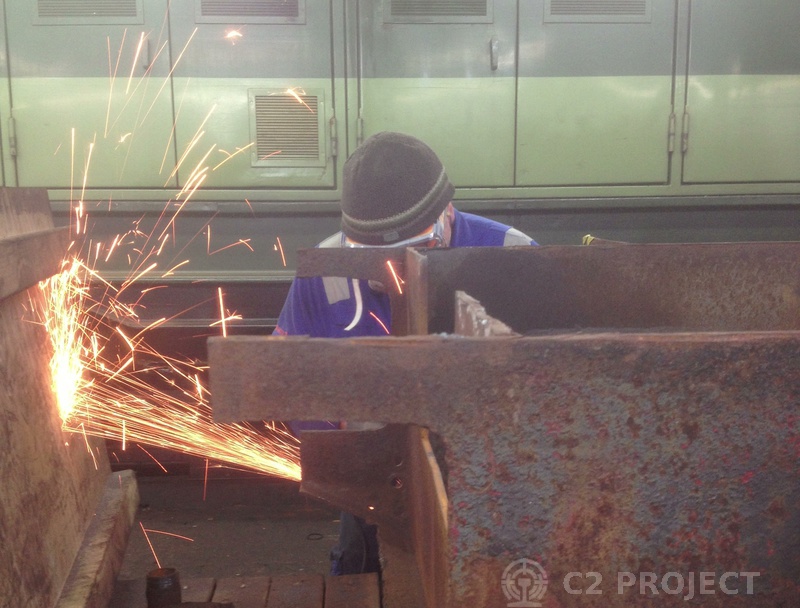 Also on the tender, Paul 2 and Alan have cut the new channel sections to length that will form the tender's new structural spine. This will carry the drawbar loads and also help to support the water tank. They have now been cut to their final shape and trial-fitted into the tender frames. Andrew has made a small doubler plate that will be welded on to one of the channels to mount some of the brake rigging. Paul 1 now needs to get on with the CAD drawings for the new tender front-end (this was badly corroded and was cut off) so that we can begin reassembly of the tender frame early in 2017.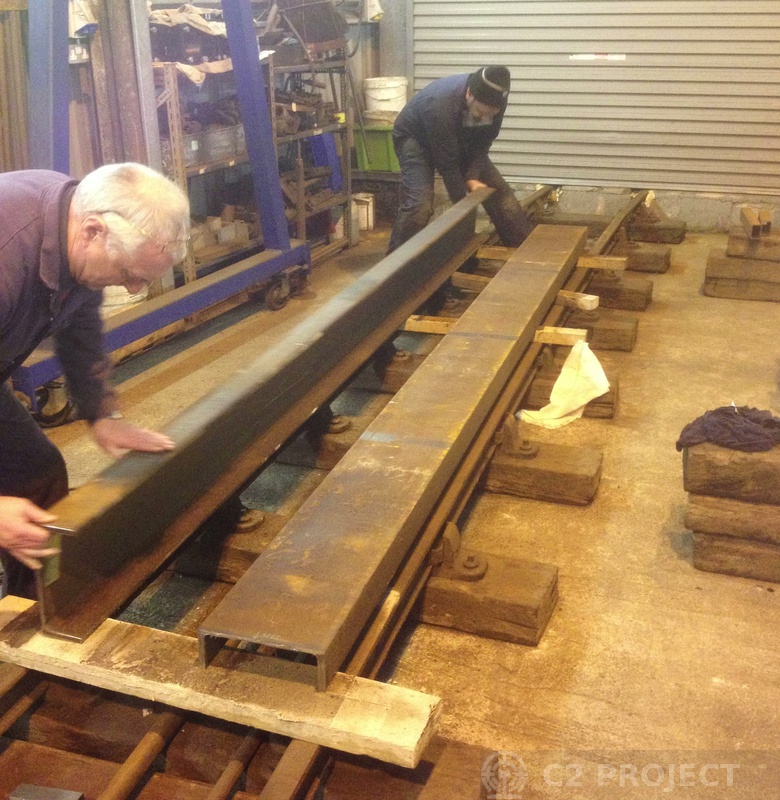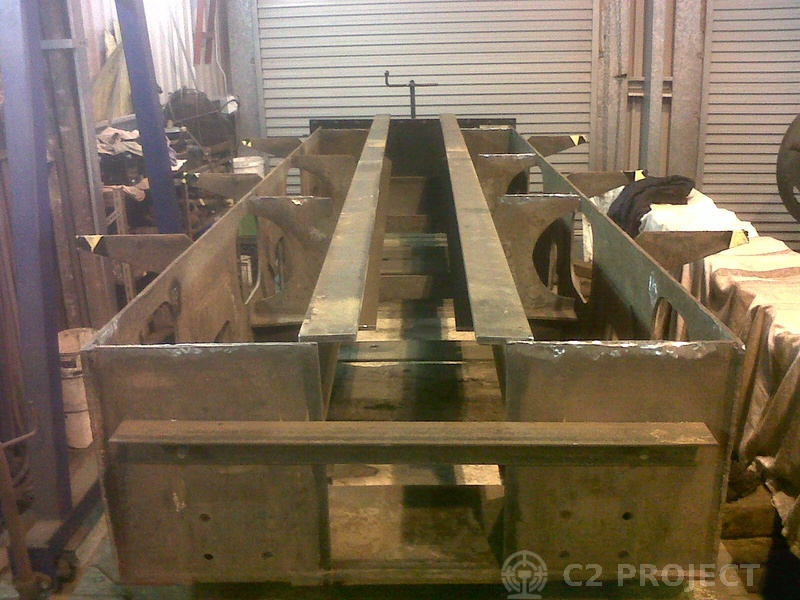 Meanwhile in the machine shop, our main axlebox bronzes have now all been machined and are ready to fit to the boxes themselves. This is important progress towards the rolling chassis. With the wheels and frames complete, and 95% of the suspension components done, we're close to being able to assemble them all together.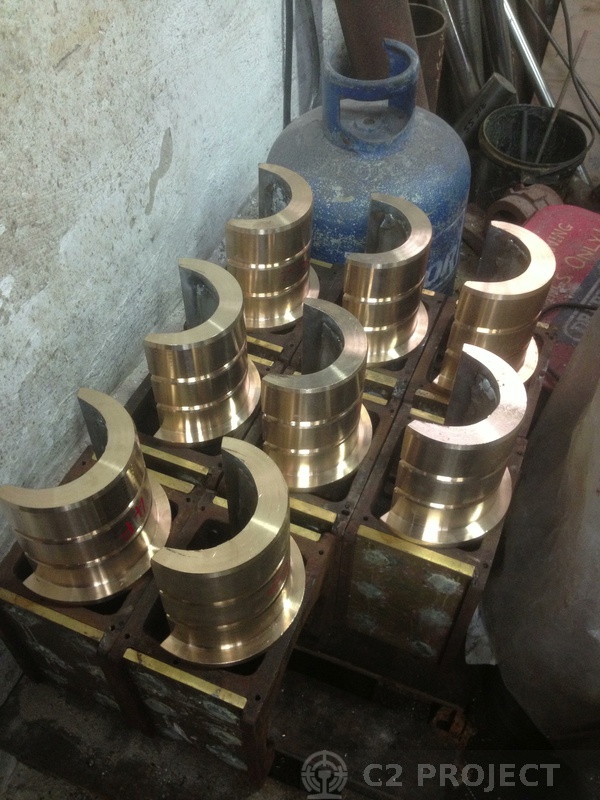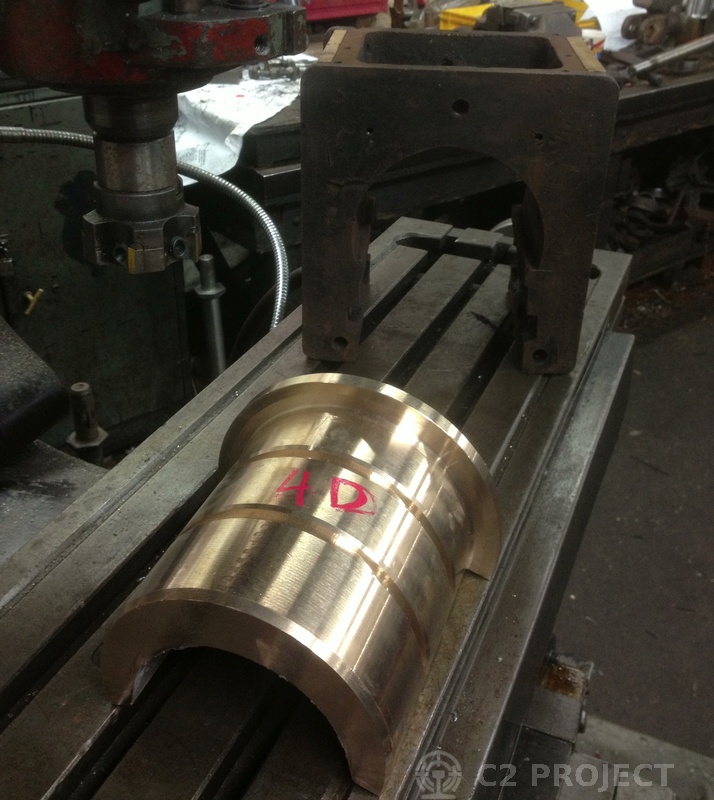 Sam has been busy driving the trains this week! We were pleased to welcome Michael Rhodes to the shed on 29th to have a look at progress; Michael has been contributing some very interesting photos to our archive project and he has plenty more that we're looking forward to seeing and analysing. On 30th we welcomed Robin Gibbons and his wife Lesley. They are both well-travelled in China and Robin has been a major contributor to the photo archive. Robin is the author of a
series of books
on Chinese standard gauge steam locos, and is also working on a book on the Chinese narrow gauge with John Athersuch. It's great to put names to faces and show off our progress with the project.
Most of us made the trip down to Llanfair on 28th for the annual 'Cold Turkey' get-together. It was indeed VERY cold despite the steam heating, but we warmed up in the Black Lion afterwards with our friends from the W&LLR, TR and VoR. Ideal weather for a C2!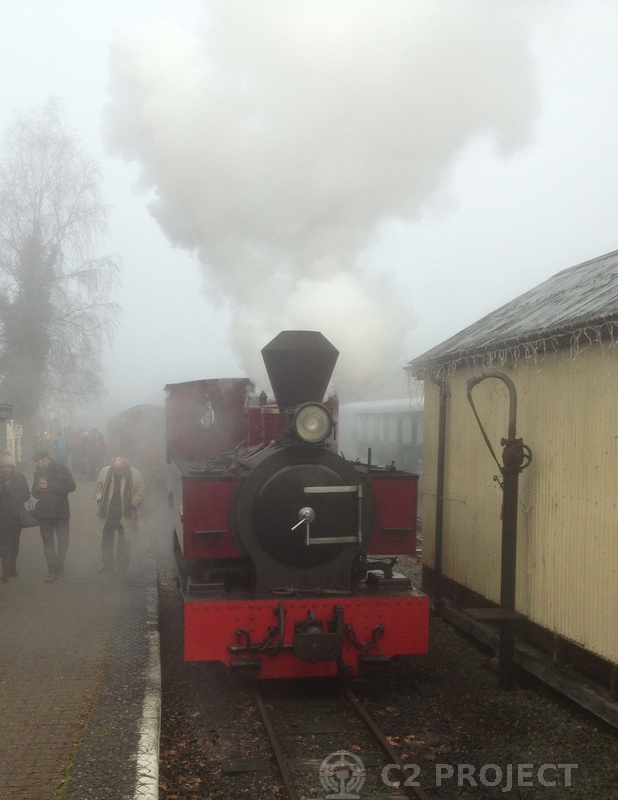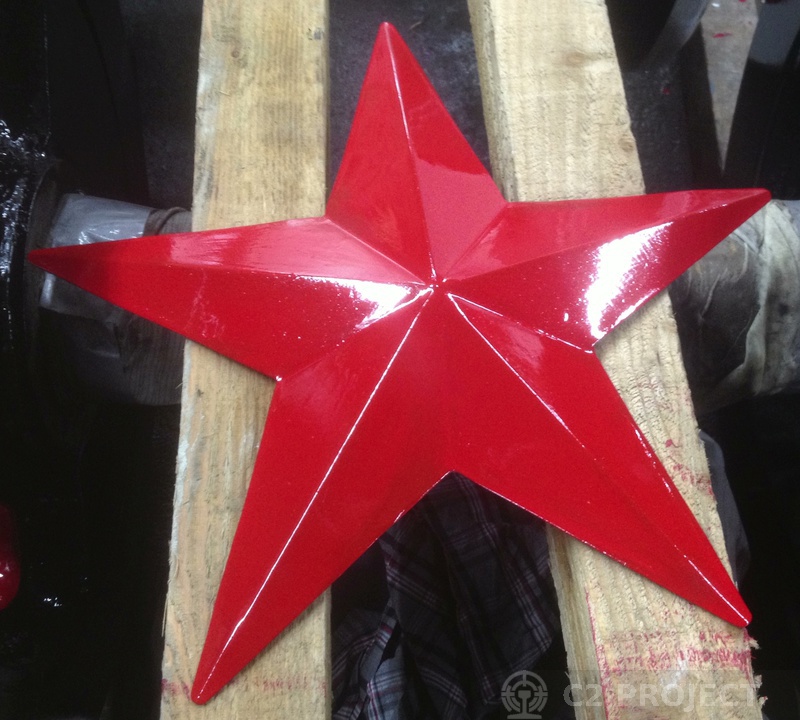 And finally, a Christmas decoration for Number 4! We spotted this for sale on ebay and after a few coats of our standard 'Hellrot' paint we have a suitable decoration for a communist locomotive. Have a look on our '
C2 Bling
' page to see other decorations carried by C2s, and if you look closely you'll see one with a red star just like this.